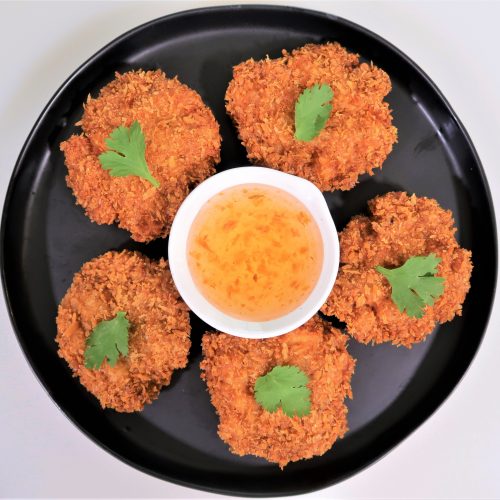 Thai Fried Shrimp Cakes with Sweet Plum Sauce
You can compare the use of these shrimp cakes with crab cakes in the US, they are typically used as appetizer but are also great as a side dish with any Thai recipe to provide some extra crunch or different flavor profile.
Ingredients
12

Oz

Shrimp

5

Oz

Shrimp

Chopped into pea size chunks

7

Oz

Pork belly

chopped into chunks

4

Garlic Cloves

peeled, minced

1/2

Tsp

Black pepper

1/2

Tbsp

Cilantro leaves and stems

finely chopped

1/2

Tsp

Salt

1

Tbsp

Oyster sauce

1

Tbsp

Soy sauce

1

Tbsp

Seasoning sauce

1

Tsp

Sugar

1

Tsp

Sesame oil

1.5

Cup

Japanese style breadcrumbs
Instructions
In a mortar add garlic, cilantro and black pepper

Grind together into a paste

Add the paste from the mortar, non-chopped shrimp, pork belly, salt, sugar, sesame oil, oyster sauce, seasoning sauce and soy sauce into a food processor with a blade attachment.

Pulse to break down mixture, stopping occasionally to scrape down the sides. Pulse until the mixture is smooth and sticky, about 20 seconds.

Transfer shrimp mixture to a large bowl and fold in the pea sized chopped shrimp.

Mix everything together. Place in refrigerator to chill for at least 30 minutes.

On a clean surface, portion out the shrimp mixture into 12 equal portions. Moisten your hands with water and form the portions into patties roughly 1/2 inch (1.25cm) thick.

Put the Japanese style breadcrumbs into a bowl and one at a time toss the patties in the bowl ensuring you get a full coating.

Put 2 inches (5 cm) of oil in a wok or frying pan and bring the temperature to 325 degrees Fahrenheit.

Put the patties in the oil a few at a time without overcrowding the pan. After 2-3 minutes check and turn over when golden brown. Cook the other side for another 2-3 minutes until golden brown and crispy.

Remove from oil and place on prepared baking sheet to drain. Serve with plum sauce or sweet Thai chili sauce.

Notes
If you love these cakes like I do, double or triple the recipe and store the uncooked patties in the freezer for a tasty any-time snack!