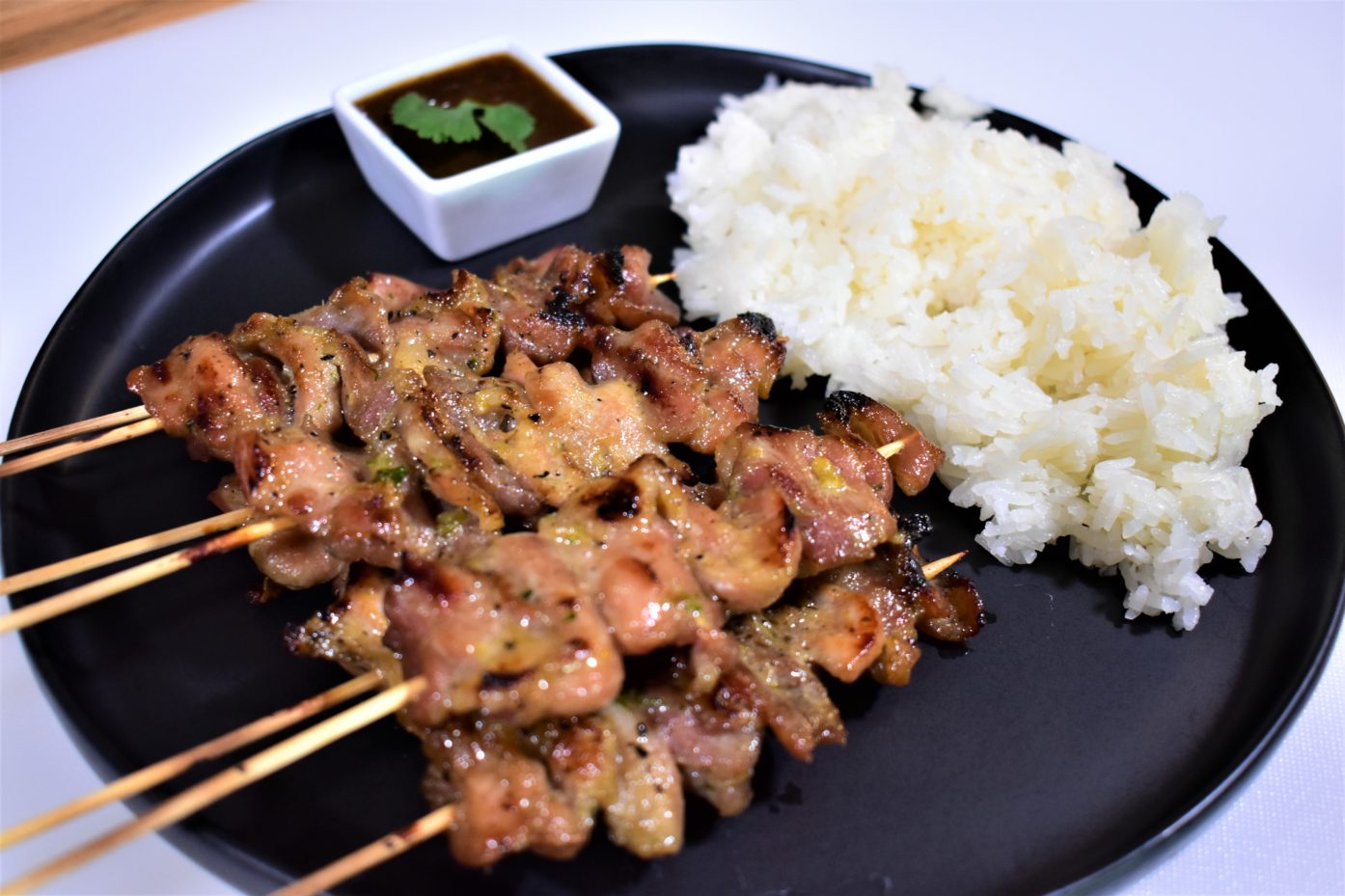 Grilled Pork with Sticky Rice
Moo Ping can be found in every market and on every street corner in Thailand. These quick, cheap snacks are packed full of flavor and super easy to prepare. They cook quickly, so they're perfect for a barbecue where you've got a lot of hungry mouths to feed, and I promise you they make a great alternative
Ingredients
21

Oz

Pork Shoulder

Slice 1/2 Centimeter

1/2

Cup

Evaporated milk

1/4

Cup

Coconut milk

1/8

Cup

Soy sauce

1/8

Cup

Maggi sauce

1/4

Cup

Oil

1/2

Tsp

Sweet soy sauce

1/2

Tsp

Salt

4.5

Oz

Palm sugar

0.4

Oz

Cilantro leaves and stems

finely chopped

0.7

Oz

Garlic Cloves

0.1

Oz

Black pepper

17

Pieces

Bamboo Skewers
Instructions
Soaked bamboo skewers in water to stop them burning

The best cut of pork, in my opinion, is pork butt or pork shoulder with its excellent composition of lean meat, fat, and muscle. Please don't use a lean cut for that will most definitely prevent you from achieving the kind of grilled pork found at respectable Mu Ping stalls in Thailand. Don't use pork belly either; it's too tough when cooked this way.

In a mortar add garlic, cilantro and black pepper

Grind together into a paste

Add evaporated milk, coconut milk, Palm sugar, soy sauce, maggi sauce, sweet soy sauce, salt, oil, salt and the paste.

Put the pork into a large bowl; mix well


Cover, and let marinate in the refrigerator for 3-4 hours.

Thread the pork onto the skewers

Grill over heat coals until slightly charred on the outside and cooked through on the inside. Brush the coconut milk on the pork occasionally while it's on the grill.

Serve warm with sticky rice. I find the grilled pork marinated this way flavorful enough unadorned, but you can also serve it with dried chilli dipping sauce (Jaew) on the side.