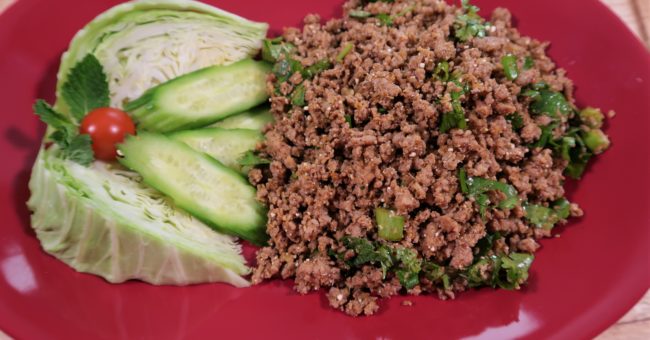 Thai Larb Moo
Larb (ลาบ) is a Thai salad, but it's not a vegetable salad, instead it's a meat salad. The minced pork is wonderfully seasoned with fish sauce, chili flakes, lime juice, toasted sticky rice to give it some crunchy texture, and a wonderful assortment of fresh herbs to bring it all together.
If you've eaten larb (ลาบ), I'm sure you love it, but if you've never tried it, you're in for a real treat!
Ingredients
16

Oz

Ground pork

0.7

Oz

Shallots

finely chopped

1

Tbsp

Galangal

finely chopped

0.5

Oz

Green onion

finely chopped

0.5

Oz

Cilantro

finely chopped

3

Garlic Cloves

finely chopped

1

Lemon grass

finely chopped

7-8

Mint Leaves

finely chopped

1/3

Cup

Tamarind paste

1

Tsp

Sugar

3-4

Tbsp

Lime Juice

1

Tbsp

Toasted Rice Powder

1

Tbsp

Fish sauce

1

Tbsp

Chili flakes
Instructions
Heat a pan on low heat. Add Garlic, Lemon grass, Galangal, Shallot. Stir continuously for 5 minutes.

Transfer from pan into a mortar.

Grind together into a paste.


Add Ground pork and Tamarind paste to a saucepan (do not turn on heat yet). Mix them together thoroughly. Turn the heat on to Medium-High.

Stir-fried the pork, breaking it into small minced pieces, until it's fully cooked all the way through and add the paste from the mortar.

Mix everything together until all juice gone. Add the Chili flakes

Turn off the heat and add Sugar, Fish sauce, Lime Juice, Toasted Rice Powder, Mint, Green onion and Cilantro to taste.