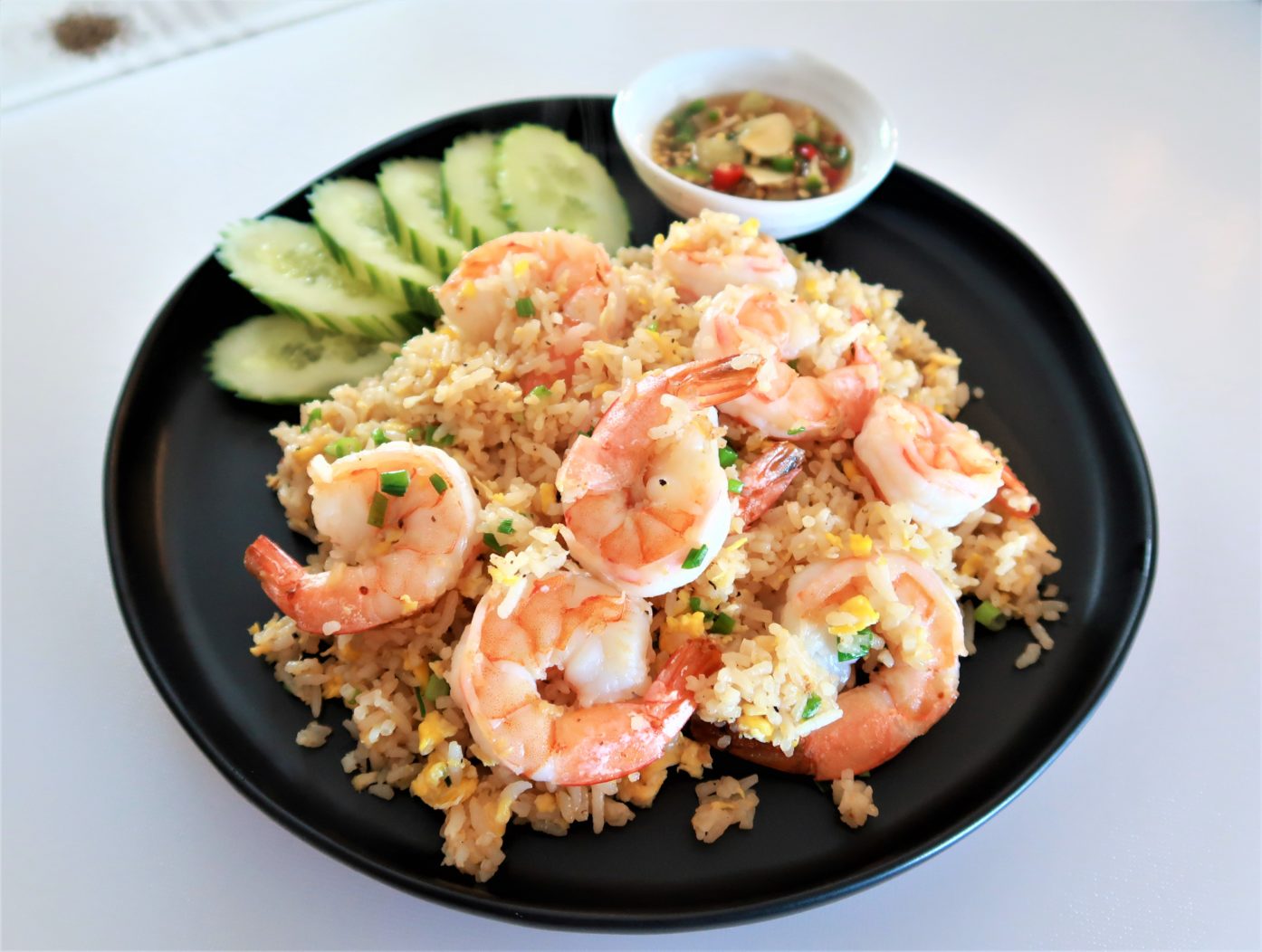 Fried rice with shrimp
Delicious fried rice dish with shrimp, seasonings. egg and onion; nothing complicated.
Since this dish is simple to make it's often used as a lunch dish, a quick pick-me-up in the afternoon after which you go back to work.
And if you have a little more time on hand, do what we do in Thailand. Upgrade the dish and add whatever your heart and stomach desires: Chicken, Basil, Peppers, Crab - There is no wrong choice here! Feel free to experiment with the different ingredients, go all out and swap them around all together, or slowly start blending in other ingredients to make your own Thai specialty.
Ingredients
8

Shrimp

2

Eggs

2

Cup

Cooked Jasmine rice

4

Tbsp

Green onion

chopped

2

Tbsp

Garlic Cloves

minced

1

Tbsp

Soy sauce

1/2

Tbsp

Seasoning sauce

1 1/2

Tsp

Sugar

1

Tsp

Black pepper

2

Tbsp

Oil

1/2

English Cucumber

Sliced
Instructions
Fried Rice and Shrimp
Mix the seasoning and soy sauce in the bowl that your cooked Jasmine rice is in. You want to mix this in and get it absorbed by the rice prior to putting it into the wok to prevent the sauces from turning your eggs into a (non-appetizing) dark brown / black color. Put to the side for use later.

Preheat you wok on maximum heat, when temperature is reached, turn down to medium-high. Add the oil, give it a minute to get hot and add a shrimp keep mixing until the shrimp is cooked all the way through.


Move the shrimp from the wok into a bowl for use later.

Keep the oil in the wok that you cooked the shrimp in. Temperature remains on medium-high and add the garlic while mixing constantly until light brown. Add in the eggs.

Keep stirring the eggs in the wok; imagine making scrambled eggs with garlic; you want the eggs cooked and broken down into small pieces.

Add the seasoned Jasmine rice mixture you prepared earlier to the wok and blend thoroughly with the items already in the wok.

Add the green onion and black pepper and stir lightly. Put the shrimp on top of the rice to heat back to the same temperature as the rice.
Serving
Serve the fried rice with a small bowl of the Chili & Fish Sauce. Add sliced cucumber to provide a cool and crunchy component.