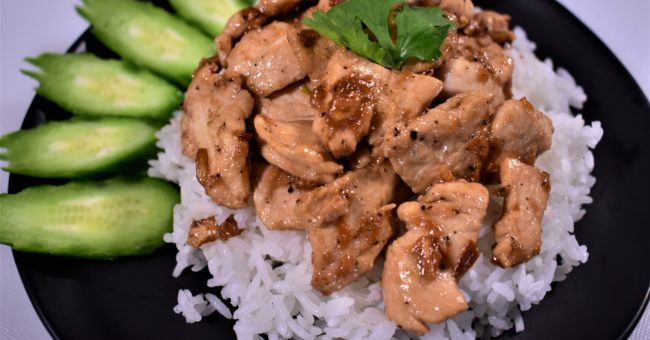 Garlic and Pepper Chicken (gai pad gratiem prik thai)
Garlic and Pepper Chicken (gai pad gratiem prik thai) is a very common dish. You can use any meat — pork, beef, shrimp, squid, etc. You can even make a vegetarian one with tofu. It's a very easy and quick dish to make. It's commonly eaten as a one-dish meal over rice.
Ingredients
0.33

Oz

Chicken breast

sliced into thin bite-size pieces

0.2

Oz

Garlic Cloves

peeled, minced

1

Tsp

Soy sauce

1/2

Tsp

Sweet soy sauce

1

Tsp

Oyster sauce

1/2

Tsp

Sugar

1/2

Tsp

Black pepper

0.01

Oz

Cilantro

finely chopped

2

Tbsp

Oil

3

Tbsp

Water

4

Oz

Cooked Jasmine rice
Instructions
Roughly peel garlic. Chop with knife or pound & grind in a mortar until it still has some texture

Heat oil in a small skillet or a sauce pan over medium low. Add garlic and spread evenly. It should not make too loud sizzle sound at this point. Fry garlic for 6 to 8 minutes, or until garlic pieces are light golden color. Do not fry until perfect golden brown color, because it will keep darkening even after take out from oil. Key point here is low and slow, if you rush and increase heat, garlic will easily burn and end up with bitter taste. Remove and set aside.


In the same pan, Leave a garlic oil of 1-2 tablespoons and turn the heat to medium.

Add the chicken (or meat, or whatever you're using!). Cook until done. If it gets dry and sticky, add some water to the pan about 1-2 tablespoons at a time.

Add the soy sauce, sweet soy sauce, oyster sauce, sugar, black pepper and fried garlic. You may need to add a bit more water here so that it mixes well.

Mix well and serve on rice.