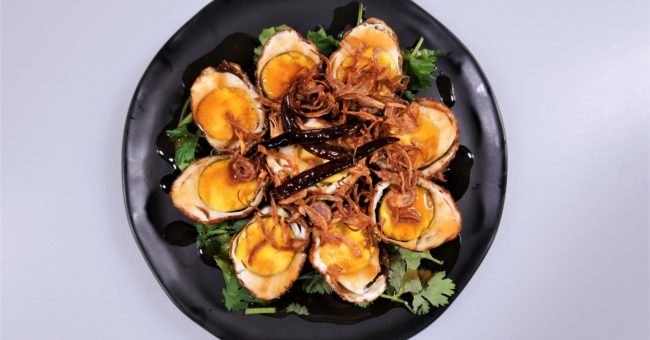 Fried Boiled Egg with Tamarind Sauce (Son-in-Law Eggs)
Son-in-Law Eggs, a simple menu of eggs, the taste is good and it looks great too. Boiled egg fry until crispy, dress with sweet and sour of the tamarind sauce, sprinkle with garlic and fried shallot for more delicious. Son-in-Law Eggs are normally served with rice.
Ingredients
7

Eggs

hard-boiled and peeled

1.8

Oz

Shallots

sliced thinly

.2

Oz

Dried Red Chilis

.35

Oz

Cilantro

finely chopped

1/2

Tsp

Salt

2

Tbsp

Fish sauce

2

Tbsp

Tamarind paste

3

Tbsp

Palm sugar
Instructions
Add about 2 inches of oil to a saucepan. Place the pot on medium-high heat. Once the oil is 350 degrees Fahrenheit (180 Celsius), gently drop the hard-boiled eggs into it. Stir the eggs around to ensure even browning. Remove the eggs from the pan when they are golden brown.

After removing the eggs, add the sliced shallots until brown. Be careful not to burn it, then put it in a bowl and put it aside.

After removing the shallots, fry the chili's until brown. then put it in a bowl

and put it aside as well.

Use 1 Tbsp left over oil from eggs and onion. Add palm sugar, tamarind sauce and fish sauce. You can taste and add more if you want. However, the traditional taste should be sweet and sour.

Cut fried eggs in half and transfer to a serving dish. Sprinkle with the fried shallots, fried chili's and pour the sauce over the eggs. Before serving, garnish with fresh coriander leaves on top and serve immediately.